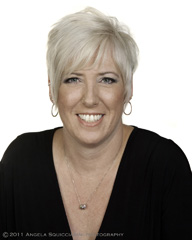 Cutting hair is my favorite service. It allows me the opportunity to create a beautiful shape and silhouette so that I am able to enhance my guests' beauty. I get my inspiration from so many places, co-workers, media and mostly being able to work with some of the industry's Great Artists working as a Redken Artist myself for the past 18 years. Plus having the opportunity to study with other Artists all over the country, including Sassoon and Arrojo.
I've grown up here at Hair Friends. It's my family, always being the place I could count on for love & support, from both co-workers and guests.
My personal life is all about my son Aiden. He changed my world. And if there is any time left over I SHOP.
Who did you give your first haircut to? "I was 13; my little sister got a professional cut 'It was BAD' I fixed it."
Who inspires you? "Anyone passionate about their craft, I love to watch people 'Make Hair Dance'."
Tell us something most people don't know about you: "Bought a pair of shoes that cost more than my couch."
Describe your style: "Classic, clean lines, but edgy, anything Sassoon."
What's your favorite hair care product? "Pureology Perfect 4 Platinum changed my world."